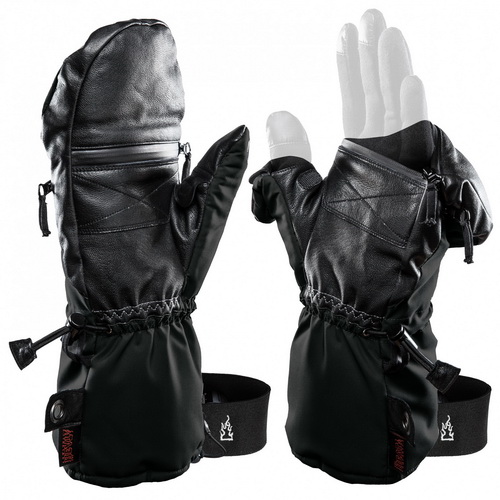 View Larger Size Chart
Heat 3 Smart Shell / Durable Liner Kit (Green Shell)
$275.00 cdn. Limited Stock

OUTER SMART SHELL

Outstanding warm mitten (wind/waterproof/breathable); palm side made of 100% goat leather (soft and strong). The unique mitten flap allows slipping out with your liner and having maximum tactility. Premium Primaloft Gold & Grip Control provides the best insulation available.

FUNCTIONALITY

Mitten flap with magnetic closure – simply flap back and use the liner for optimum dexterity. Silent closing using magnets for fixing mitten and thumb flap Extra pocket on the back side of the mitten keeps the hand warmer (keys etc.) in place. Easy-off leash Thumb flap also allows for optimal warmth and movement when needed Safety strap with elastic wrist band prevents the gloves from falling off. Extra long cuff with snow lock for more protection.

DURABLE LINER

Our warmest mitten, superior comfort and breathability, made of 100% goat leather (soft and strong). Windproof, palm side made of soft sheep leather, strong and durable; long knitted cuff for extra warmth. Index finger flap with magnetic closure allows optimum freedom of movement and use of touch screens

CARE

Handwash only at 30°C degrees. Dry slowly (leather!) Leathercare with beeswax and jojoba oil specially designed to maintain the high quality of your HEAT leather gloves. HEAT Leather Balm protects against drying out and impregnates against moisture. The leather is nourished, remaining soft and supple. The natural color is refreshed. Existing and/or minor scratches on the leather are significantly reduced.